Twenty years ago, somewhere hereabouts of this minute---2 p.m., we were on the long cold road from the Alabama coast to our new home in Indiana. We'd had our Christmas celebration with all the family on Christmas Eve, for Chris had to be back up here by morning on the 26th. We rose about three a.m., on Christmas morning, way down there in the fairly warm climes of Alabama, went around the house kissing every sleeping head Goodbye, and hit the road.

And by now, we'd made it all the way up into Tennessee, I believe, with no sign of sustenance along the road save feeling trapped in one of those awful Cooking Show Scavenger Hunts amongst the choices of jerky, Cheez Doodles and ninety versions of Caff-Pow offered in gas stations, convenience stores and Jiffy marts.
We'd had a lovely Christmas dinner with every one of the children in attendance the day before, all coming to us for an early holiday, and we'd feasted on Turkey and dressing and all the good old butter-laden Southern side-dishes, so we'd had our traditional meal, but it was CHRISTMAS DAY, and no real food in sight. We just kept pushing on past the McDonalds and the Burger Kings and the Hardees, thinking somewhere would be a moment to stop, take a little break, and eat something---anything on a plate, with a fork.

It wasn't a hard trip; the scenery was a bit drab that time of year up through the mountains, except for the evergreens, but the music was playing and we were talking, and, twenty years younger, bright-eyed and eager for whatever our new life brought us. We just kept scanning and looking for a place with lights on, with cars in the parking lot, with some semblance of human habitation, and then---the tall, beckoning yellow sign, lit up like The Star.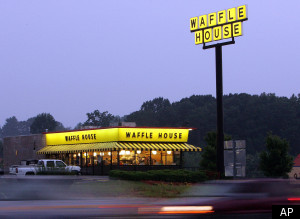 The parking lot was packed---a good or bad sign, however you might look at it, but we opted for glass/full, and pulled right in, to see a goodly-sized line snaking out the door. But everyone seemed to be in a pretty cheerful mood, for the waitresses---those famous Take-No-Prisoners women, their traditional tiny mauve babushkas or eyeshades replaced by Santa hats and elf bells and reindeer antlers---those wonderful women were out there in the parking lot with trays of coffee and juice and water, going up and down that line with much-needed refreshments.

They were checking party-of numbers, parceling us out to fill all the seats, strangers with strangers, to cut down on waiting time. And it didn't seem a long wait, either, for Chris is a never-meet-a-stranger person, and so we sat in a booth with a couple from Dyersburg, and every year I feel as if I should send them a card.
I was almost hoping we'd have to sit at the bar, for I've never had the nerve to just pop down on one of those stools, back to everything, and eat my breakfast with the world looking on; I was kinda looking for an excuse to cross Hunker Over Bacon and Eggs off my List of things I've never done. But I'd probably be a dismal failure at it---not enough droop to my outlook, I don't think, nor ability not to look around, taking everything in all at once. You kinda have to lean into life, to sorta hug the plate, to keep constant guard, it seems, to master a proper hunker, and I wouldn't presume to make an amateurish attempt in the company of pros---it wouldn't be polite.
I think I had an omelet, and perhaps Smothered and Covered:
And of course, Chris had the entire works: Waffle, eggs, bacon, grits---still his favorite, and this time every year, we try to go on a frosty day, inhale that coffee and burnt-toast smell, slide ourselves across those cold, slick vinyl seats, order a plate of that that carb-packed, wonderful fried stuff, and remember our long trip in search of a place to eat. It wasn't Christmas Dinner, but it was bright and tasty and warm with the shared holiday spirit of a bunch of strangers sharing a meal far from home.