I love hats, though I do not wear them well. I have forever had my heart set on wearing, just once, one of those little front-flipped skimmer numbers which make anybody look sixteen, but prefer to turn me into Gabby Hayes.

It's just as well---I don't like wearing my hair down anymore, and the knob of my ponytail/bun causes any hat to sit sidesaddle, spoiling the entire effect. Nothing fits, nothing is becoming. I did have, however, a wonderful "straw" hat for a trip to England, bought because it was crushable, popping back to shape like the life-raft that inflated in the Petries' closet. It had little embroidered flowers on the front---lots of different pastels which would go with every Tee and shirt and outfit I took with me.
I remember standing outside Buckingham palace, with all the tour group as they waved at the windows and speculated that the Queen was looking back. Having heard it ad infinitum for years, I'm sure, our guide listened for a while, and said, "She's probably looking out at Rachel, saying, 'Nice hat.'"
And on Sunday morning, as we tiptoed into the back of a cathedral and around several of the side-rooms, as services were going on, one of the long-robed gentleman serving as ushers (oh, I so hope he was a Sexton---Baptist churches have no such officials, and I've always thought it so much more ceremonial a word) had ignored the shuffling, whispering tourists as they wandered around the peripheries of the worship, but came over to me where I was standing quietly against a tall post, just drinking in the atmosphere of tranquil reverence, and said, "Would Madam like to be seated?" It might have been the sedate older lady look, or my silence and respect, but I think it was THE HAT.
I've had a few in my life---a little cap of tiny pheasanty feathers, which wrapped my skull in gleaming bronze; there was that immense cartwheel number, which caused me to have to sit on the back row at weddings, and to maneuver my way through crowds like a nun in a wimple. There was one pretty stiff-veiled one, a bit like this one, but with a single lush pink rose which sat atop my head like a pouf on a cupcake:
A Winter one, for wearing with my all-the-rage mouton jacket: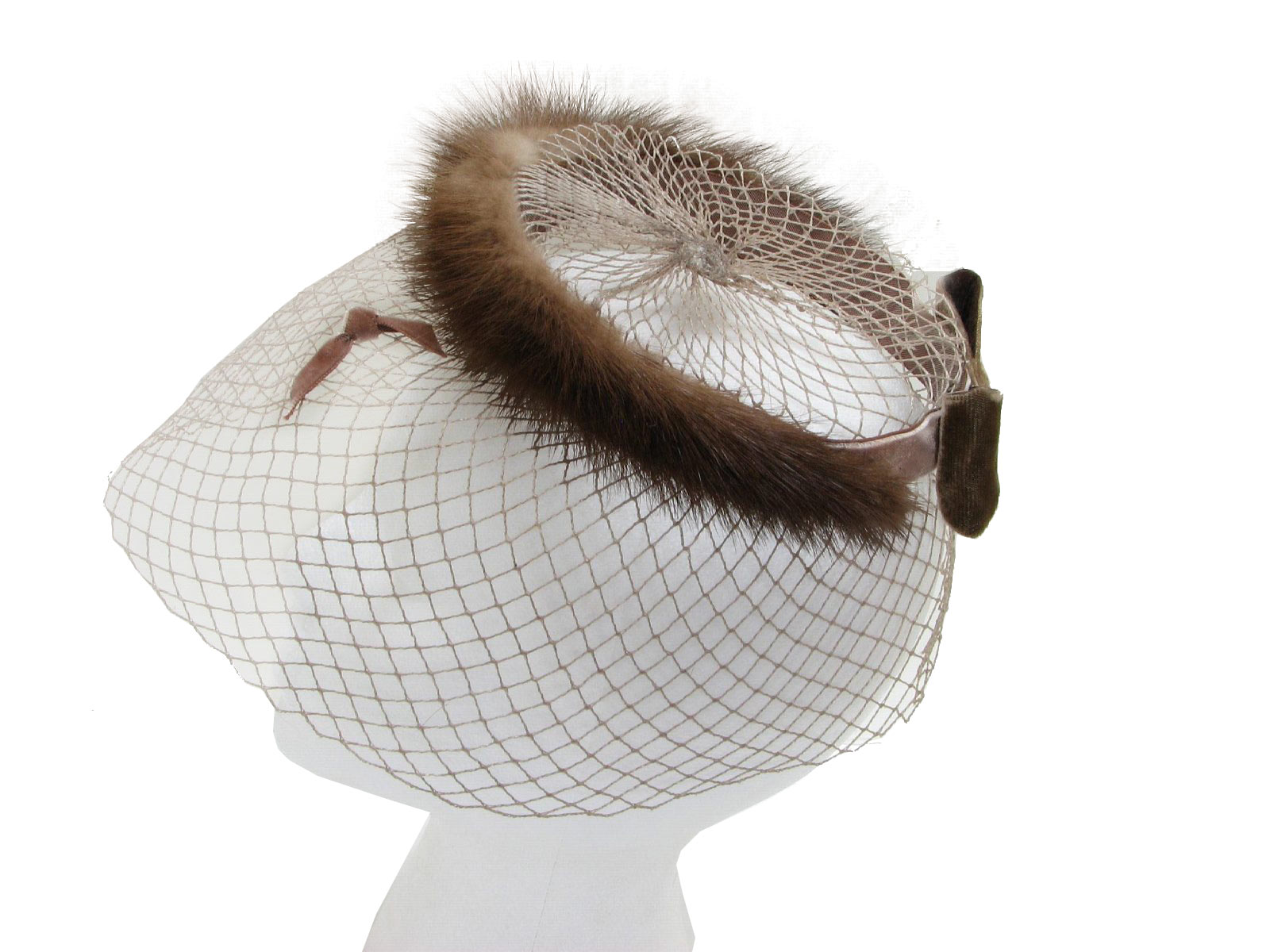 But my all-time favorite, worn for several years, was very similar to the stiff-veiled one above---a simple black peau de soie circlet, like a padded embroidery hoop, sitting flat on my head with the stiff black veil encircling my face like it had been molded on an enormous lightbulb. I felt SO chic and mysterious, peering out between those tiny black-bordered panes, and longed for the glamour of red-red lipstick and a cigarette holder to complete the intrigue.

It looked something like this, and I felt simply beautiful in that hat: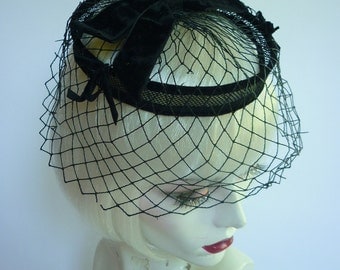 Does anyone still wear a hat regularly, or have a favorite, or perhaps one which lives on in memory and longing?