Somewhere in my closet are a couple of caftans---those long or longish creations which sort of skim your body and float gently as you walk. They're especially nice for relaxing on the patio after a fragrant Summer shower with lovely soaps and lotions. They're my own version of the storied "hostess gowns" which so captivated my very-young, very limited fashion imagination, especially in relation to the "Sunday Night Suppers" of cookbook and soap opera legend in those Mary Tyler Moore years. I love wearing them in a comfortable setting with close friends, or put on just BECAUSE, with my wet hair up in a turban and cream on my face.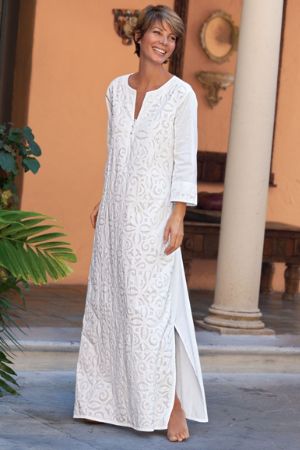 Long-ago memories of my favourite caftan, all floaty silk and gently bat-winged, in yards of soft taupes and tans and smouldery gold swirls of acanthus leaves with the sun peeking through.
My, I felt elegant in that one, with my heavy Sarah Coventry necklace and gold toe-sandals, and had no qualms about wearing it over and over.

The perfect seventies accessory---My, didn't EYE feel soignee!
I can't imagine where that beautiful garment is now---probably mouldered in a tip, for the last time I saw it was many years ago, slung over the shoulder of a poor young woman who had spied it hanging in the back of my office, dry-cleaner-bag-and-all, and practically cried over the beauty of it. And when her slow, Southern drawl went on to say, "I'd wrap myself in it on my mattress every night---I ain't got no sheets, ye know,"---my heart overflowed and I pressed it into her hands.
And I've no doubt it cuddled her dreams for a long time.