In the long-ago days down South, we had people over often, or I catered a party or "helped with a shower" or some other such gathering for church or school or friends, and I had several punch bowls---mostly gifts.

Filled with a lovely fruit punch, or good strong clear sweet tea with floating lemon, or clouds of that severely-sweet sherbet-and-Seven-Up fluff---set one of those down, and anytime's a party.
One of my bowls was a gorgeous Austrian cut-glass model, with a lovely pattern incised in lines almost sharp enough to cut your fingers.

It was a beautiful thing, shining in the light of a pretty table, or even just in the sun on the afternoon dining table. I even put down towels in the sink when I washed the delicate thing.
It required "acclimating," according to the directions on the paper which came in all the tissue and wrap---you had to put in a little cold water and swish it gently around, then a little more, then with a little ice, getting the chill all up the sides and chilling the bowl a bit before pouring in the icy punch.
I lent it seldom, for it had been a gift from Daddy, bespoke from friends traveling and shipped from faraway lands.

And I always took the time to tell the hostess JUST how to season the bowl before using.

Once, and the last time---literally---that I lent it out, was for a very special baby shower at our church.
We were having a lovely time with games and chatting, and then it was time for refreshments.

As some of the ladies started setting platters and trays on the table, there came a resounding "CRACK," like a pistol-shot from the kitchen, followed by a gasp-and-a-total-hush, during which came the splash and drippage of a great quantity of liquid onto the tiled kitchen floor.
I knew exactly what the sound had been---my gorgeous punch bowl.

I didn't even get up to go look, for I think everybody else did.

It was in two neat pieces, split almost precicely up the middle, lying like a dead clam amongst the big pool of Sunrise Punch, which was speedily making its way past the extra cups and the twelve Tupperwares of cookies and tee-ninecy sandwiches, and onto the floor.
The one hostess who "didn't get the word," had undertaken to fill it right up from the big old jugs of crusty-iced punch, straight from the freezer, and they did their work.

Nothing to be done but smile and finish the party and take home the sticky pieces, to glue together "just for looks" for the table.

And nobody was to blame, really---no way to be mad, (well it was worth at least a private pout or two)and what good would it have done---just a gentle regret for spoiled perfection, but we still got to look at that shine and twinkle for many long years.
And another bowl---a Christmas gift from my children---was in use for lots of things besides punch.

It was one of those two-decker models, with the smaller matching bowl inverted beneath to make a goblet-shape,

and all those little plastic doo-hickies around the edges to hold the cups.

It held many a banana pudding for Church Suppers, or a huge salad for a ladies' luncheon, or even that ever-popular "Overnight Salad" with all the layers---or best of all, an immense four-or-five-makin's of Pink Salad for the Family Reunion, showing rosy through the glass.
Right now, I have several in the house, including an impressive Fostoria beauty, huge and gleaming, which lives atop the oldest china cabinet---it was a gift from a dear friend when they downsized houses, and except for DS and DDIL's wedding, I've never had occasion to use an item of such magnificence.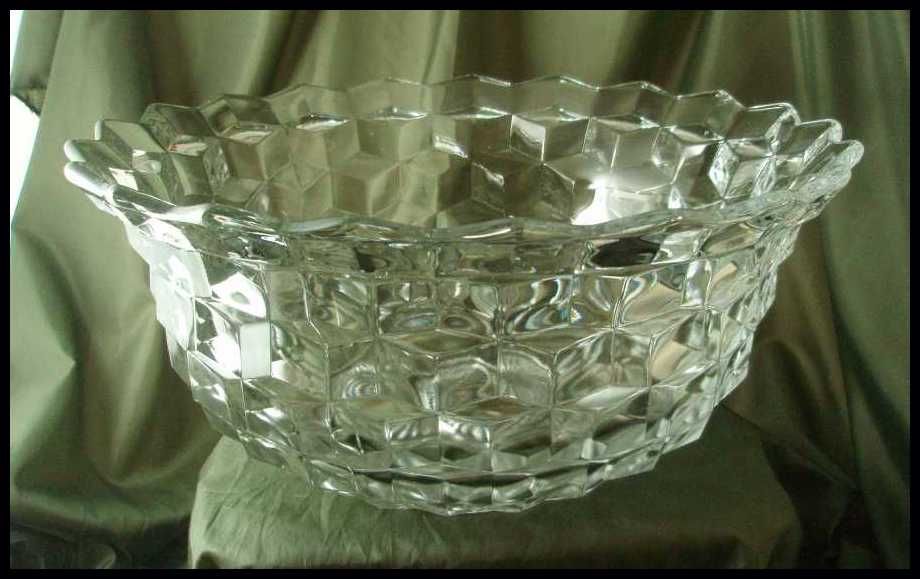 Punch bowls say you're doing something special, even for everyday.