There's such a rich, interesting history to a lot of southern words---different meanings, different inflections, different heritage. That piece of paper you get from the state or county for fishing or hunting is a PER-mit to permit you to participate.
INTERNET PHOTOS
A croaker sack/Kroger sack (depending on where you shop, I suppose) is usually a kind of burlap bag, but could range from a cottonsack to a feed sack. This term is seldom used to refer to a sure-nuff paper grocery bag for shaking up that frying chicken with all that flour and seasonings, but that same bag could be called a poke, a la Miss Loretty's brown paper trousseau luggage in Coal Miner's Daughter.
A deep freeze keeps your food frozen; a Frigidaire keeps it cool, and you pay for those items from your pocketbook. You might tote that stuff home and wrap it in loomnum foil (also pronounced faw-ul) or Saran, clean your clothes in a washing machine with water from the hot water heater, and sprinkle-down a load of laundry for ironing.
To close a window, you might pull down the sash; you go to church to hear the message, and to partake of The Lord's Supper. Your meals are called breakfast, dinner and supper, and might include a mess a greens, a pot of snap beans seasoned with a little hand of fatback,
and a
pone of bread: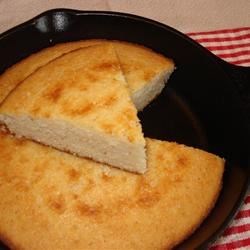 A duster is the light robe a lady might wear to cook breakfast, and her bedroom slippers might be called house shoes or, if they slide between the toes, thongs. But with all the beach-house rentals and the trips to Florida, the word "flipflops" is catching on fast.

A firefly is a lightning bug, a frog is sometimes called a hop-toad, and a grub in a hole in the ground is a doodle-bug, fished for by many a squatting, dusty small person with a ball of spit-moistened dirt on a broomstraw.
Try your hand at translating a few from what I call my
Mason/Dixonary:

Cho-cho

Nabs

Crawdad

Locus'

Git-fiddle

Hammerjack

Spicket

Slopjar

Lightbread
Sweetmilk

Settee

Galluses

Gettin' your beauty struck

Beauty shop
Piddlin'

Doo-hickey
Snake Doctor