Woodhue Pure parfum is a gorgeous long discontinued sultry fragrance. Top notes include orange accord, zesty bergamot, and citrus sparkle. Middle notes feature Jasmine Base notes are a blend of sandalwood accord, vanilla, Cedar, and musks

From an ad for a Vintage bottle of perfume---half full.
Does anyone remember Woodhue? To me, it says crisp cold nights, heading out for a date, wearing a skirt-and-sweater outfit and my mouton jacket, scented with the above "accords" and sparkles of the wonderful stuff which smells like if you opened a cedar chest in which you'd spilt a Watkins vanilla bottle some time earlier.---now THAT'S an accord. I loved it.
Chantilly was a second favorite---it was a bit stronger, heavy on the vanilla as well, and much like a too-flowery seat in a funeral parlor, but pleasant. Girls poured it on, and at parties and in church, the group of us radiated the sweetness of honeysuckle cookies.
Royal Secret became a definite covet when a beautiful young woman moved to our town and went to work in the same office as I. She was tall (I was not), very slender (ditto), and had long black hair and exquisite manners; she could make you laugh til you cried with her slightly-bawdy sense of humor, and we all just loved her. I just remember it smells elegantly sweet, and I longed for some for a long time, then wore it proudly, cause that was what beautiful, elegant Penny wore.
Shalimar is of equal sweetness to all the above, with notes of vanilla (perhaps the drawing-card of all the ones I've ever really liked---my first experiments with fragrance were furtive visits to the baking cupboard. When Mother or Mammaw weren't looking, I'd dab a bit behind my ears and in the "crooks of my elbows" and sail off to third grade, confident in my beautiful aura and aroma).
I haven't bought Shalimar since that day in the 80's that the duck flew down the chimney and broke the fancy bottle in my bathtub. Cleaning up duck poo and broken glass can change your mind about a lot of things.
Joy was the fragrance my Mother wore most; she DID have a long Estee' period somewhere in the Sixties, when the Lauder coffers were being enriched by every woman South of the M/D line. There were a few years in there, when in any southern gathering, or even in church, you could float heavenward on the pure '"Esty Law-der" fumes, unadulterated by any other scent save for Brut and Old Spice and old Mr. Godbold's comb-over Vitalis.
Arpege I remember strongly---that being the operative word, for my very first week at college was spent in a haze of saturating fumes. We were there for Rush, and my roommate wore gorgeous clothes and a cloud of Arpege which preceded her down the hall and out into the world. I hid my face when she picked up the bottle, and after the interminable atomizer hiss, held my breath til I could flee out for air. It was WAY too much of a good thing, and I wondered that she was invited back anywhere after Ice Water.
And then, there was Intimate---take Arpege Girl and multiply her by twenty, all living on your hall. Mornings were a feverish rush to get awake, showered, and OUT of there, before you smothered, and running the gauntlet past twelve rooms, all with open doors exuding a miasma of Kents and Intimate---OH, my. It was like everybody was smoking cigars dipped in Aqua-Velva.
Intimate was the epitome of what my Daddy always said about some perfume: It smells LOUD.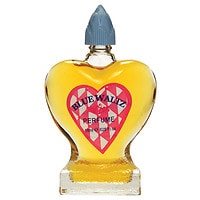 Then there was the
crème de la crème
: Blue Waltz. Several of my friends wore it and I thought it smelled lovely. It was for sale in the drugstore, in Woolworth's and in the local Ben Franklin---well within a child's saving-up range. I would walk by and open a bottle, inhaling an appreciative sniff; I'd turn the bottle back and forth, admiring the almost-heart-shape of its squat little body. Once I even removed the cap from the big display bottle---that thing probably held a pint, and my hopes were dashed when it didn't smell like anything at all---just colored water. I'd just known it was enough Blue Waltz to keep me in fragrant bliss for the rest of my life.
I dared to sneak a sample only once---a tiny furtive dab onto each wrist when Miss Hazel was busy making milkshakes----nobody in the store seemed to notice, and I walked out with a gleam in my eye and the confidence of Audrey Hepburn---I was GORGEOUS. And then, my Mother caught a whiff of my contraband, and I was in TROUBLE.
"I've TOLD you about that cheap trashy STUFF!" she said. "I'd better not EVER smell that tacky mess on you again!" And so was my one foray into the world of Blue Waltz. It remains, like the exquisite fruit at Goblin Market, a never-found-again grail, a never-equalled perfection.
And since all those, I've had brief fling with Giorgio, a slight flirtation with Design, and besides the above "dresser set" of Shalimat from Chris, the only bottle on my shelf today is my Daddy's bottle of Obsession for Men. The afternoon he died, I walked out of his house with his watch on my wrist, his teeth in a baggie, and the plump bottle from his bathroom shelf. I took the teeth to the Funeral Director and gave the watch to my son, and I still go spritz a little whiff of the Obsession onto the shower curtain for remembrance, or onto my shoes, if I'm going out. Full circle back to my third-grade love affair with Vanilla.
I coulda just married the Watkins man.