It's Summertime, folks---hard times this year for the farmers and all those who depend on them, for the fields are parched and cracked like rivers in the Kalahari, with the corn tiny shriveled blades, gold and tan in the ever-blasting sun.
Our lawn crunches as you step, and in the near-back yard under the big tree, it's almost the foot-pounded dirt of the small yards of my childhood.

To keep from thinking about all the things going on in this world, I just sat down and jotted some pleasant memories from far, far ago:
Up and down the blocks where my Mammaw lived, it was common to see a just-dirt yard, sometimes bordered by flowers---mostly zinnias, their bright noddy heads punctuating the trodden earth and the silvery beds of Snow on the Mountain and Dusty Miller.
There was an occasional brick walk laid in a small path long ago; they'd sunk so deep that even the squared edges were blurred in a hazy frame of dirt, with just an ovalish glimpse of bricky red.

And intentional buryings of pretty bottles made some of the strangest and prettiest walks I think I've ever seen.

I suppose they dug the hole deep enough for the entire bottle to be placed neck-down and the dirt filled in, with just the gleaming round or square bottom showing.

Sometimes they had little dimples that would fill up with dirt, so there was just a ring, looking as if you'd buried small bowls up to their rims.
The walks were laid out in lovely patterns like checkerboards or curves or every-other-row-the-same-color, with the telltale slim moons of whiskey fifths as occasional parentheses.

We could go anywhere in town back then, and we walked right up in anybody's yard and walked their paths.

Nobody ever ran us off or told us to go home, because we were usually barefooted, and couldn't hurt either yard or bottles.
The housewives swept their bottle-paths like they swept their porches---every morning---getting all those colors brightly out into the sun, and our favorite was Mildred Tolliver's house.

The house itself was one of those small never-painted, tin-roof kinds, with the boards all weathered silver-gray, and the steps made of cinderblocks.

She and her young'uns had gone collectin' down at the town dump for years, and they had a path like the others in town, with browns and clears and pink and ruby and all the riches of purple.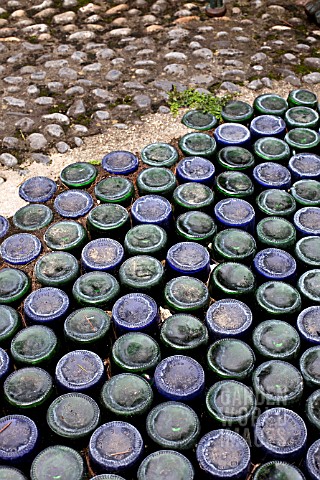 But the Tollivers had THE PATH, and I'm sure it had been years in the making.

It was wider than most, made of of blues and greens---all

shades from the deep blue of an Evenin' in Paris bottle and the telltale squares of Milk of Magnesia, to ranks of Coke-bottle greens and teal and a bunch of little clear green triangles put together to make diamonds, scattered here and there---I can't imagine what came in THOSE.

If you walked along that path with the sun just right, or put your face right down to the bottle, looking in with your hands aside your face like looking into a store window, it was like looking underwater.
That beautiful thing ran all the way around her house in a big square, like a picture frame.

She said it was a charm, and put store in it like she did her ankle-dime.

We walked it often for luck, always starting in the corner by the right of the front porch. Sometimes we'd climb the Denton's big trees and look down in her yard, and I always wondered how it would look from an airplane.
I don't remember actually SEEING anyone put those bottles in the ground---I always thought maybe they consulted the Almanac or the Cardui calendar and did it in the Dark of the Moon, like Mammaw planted turnip seeds and potato eyes.
That was supposed to be kinda magic, too, and those long rows of buried bottles, more colorful than Dorothy's Brick Road, are one of the most magical memories of my childhood.