I've written of my learning to read at four, courtesy of Miss Kitty across the street---Bless her Dear, Generous, Patient Heart. She made me free with any and all of the books in her enormous bookcases, and away I went. I gobbled up words like popcorn at the movies, never looking away, never losing track, never paying attention to my greedy fingers cramming the luscious morsels into my mouth.

I'm hoping to instill such a love of reading into all the GrandChildren, and every package contains books of some sort. Our lower shelves, stripped of their Clancy and Koontz, have merry stacks of Seuss and Milne and Potter and Grahame, in those wonderful higgle-piggle piles of mixed sizes and colors which tilt and sway like Technicolor Jengas, requiring a call of "Cleeeeen-Up!" perhaps twice a day.
We read together, Sweetpea and I, and she sees the love her Ganner and I have for our books---we can't think of anything as important to a child's educational preparation as the love of Reading.
I recently found an immense edition of the Dick and Jane "readers" of my own first grade days for Our Girl, with a slick, bright yellow cover and the heft of an encyclopedia. The little folks are exactly the same, in their Thirties and Forties little outfits and shoes, their parents' clothes and expressions the ones I remember, and Father's hat as natural to the page as the little brown oxfords and the Mary Janes.
Sunny skies all around, except the occasional patter of friendly rain, occasioning the donning of perfectly-matched slickers, hats and boots, for laughing adventures beneath bright umbrellas.
In spite of having read a lot of what today's kids call "chapter books" provided by Miss Kitty and the local library by the time I started First Grade, I somehow remember the Dick and Jane books as having been much more inviting and interesting.
These things have absolutely NO PLOT, people.
Except maybe for that time Puff was up the tree, with all the suspense of the Lost Kitty Carry-All---there's no real action, anywhere.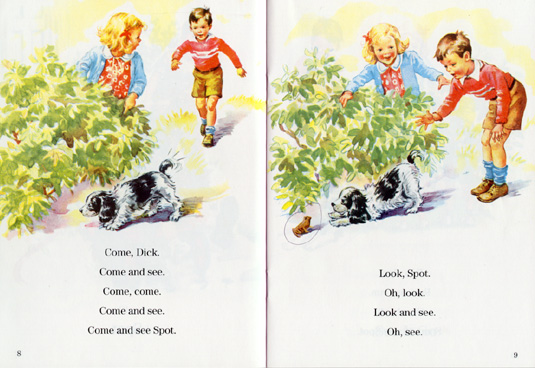 They Look and See, and sometimes GO, but that about wraps it up. Even just-turned-three Sweetpea prefers ANYTHING else---she likes a plot and a conclusion as well as the next person.
The other mystery is that we were forbidden to "read ahead" of the day's lessons. What on earth was the great denouement---the solution---the climax they were hoping to preserve? Were they going to solve a mystery---take a trip---get a new pet---do ANYTHING besides Look and See?
The colors are still bright, the family cheery and loving, the pages still the depictions of the Perfect Family of the Forties---three happy children living with the same Mother and Father they started out with, in a house with a picket fence, a dog, a cat.
But let's face it---Fact of Life:
One point to Thomas Wolfe---Dick and Jane ain't as much fun as they useta be.