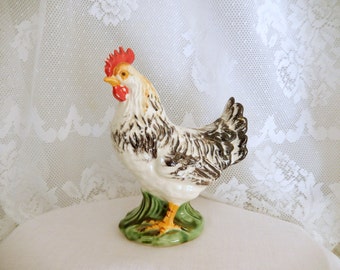 I just visited one of my favorite blogs, and was pleasantly surprised to see that their lovely English drawing room was brightly decorated with a magnificent collection of colourful roosters.

I'd not have been surprised at some Staffordshire dogs or china spaniels, but somehow, my reference to the bright birds has always seemed to be as part of an Early American Hutch, or a long rail encircling a Country Kitchen, or even trooped along the big old warming shelf of a huge black stove.
But in that chic, elegant golden room---roosters reign from several quarters, casting their colours into the seaside sun.
I have this theory about roosters---of the ceramic or china or anything-in-the painted genre:

Did anyone ever START OUT to collect them?
It seems as if they might have acquired one by chance---perhaps a special one, one which caught their eye by dint of glowing hues or cunning expression or posture or size.

Maybe that first chick-in-the-nest came as a gift, or by inheritance or perhaps at a souvenir shoppe or antiques store.

And next time they saw a mate for it---maybe the matching hen, or another by the same company, they just felt they HAD to buy that one, to keep the first company on the hutch/sideboard/credenza/shelf/other-door-needing-a-doorstop. Then someone saw the pair, decided for the next holiday gift to "add to their collection," and they were off and running.
A regal one here, a long-tailed one there, here a chick, there a fowl, everywhere a red hen, and the chase was on.
Just like those aunts who coo over that next pair of Hummel children, or the teacher who sweetly accepts yet another Precious Moments bell---were they becoming curators of a museum not of their own making, and caretakers of great numbers of graven objects they didn't know they chose?

And they WERE choosing, most of the time, seeing just the right one on a weekend, finding the perfect match at a tag sale, unable to resist the expression on the charming little face.
The dusting and the polishing multiplied exponentially; the storage shrank with each acquisition, and the sheer numbers branched the décor out from kitchen shelves to den walls to porch nooks, with the speed and volition of a NASCAR.
I love to see those bright ranks of Chanticleers, marching across the screen---the owners have a flair for arrangement and design, and the shiny chicks just brighten a room.

Just the colours must cheer their
mornings and shine up a cloudy afternoon, and the plates and bowls make a welcoming table for almost any occasion save a funeral feast (though if anything could be cheering, it would be those festive fowl).
The regal ranks stand in every room of the house, looking perfectly at home in kitchen, dining room, drawing room, and stand patiently contributing their flair and fest to the whole place.

One blog-day is dedicated to "You show me yours . . ." now and again, and I click from screen to screen, admiring and enjoying the colours and poses and cheer.

And most of those guys don't just look like a barnyard strut; they look as if they've just conquered a small country.
But I STILL wonder---does anyone go out, say on a Saturday Yard Sale day, drive slowly past each table-strewn lawn, and in the absence of a flirt of tailfeathers or a bright uplifted comb---do you just keep going?

Or do you pass by the punchbowls and Limoge at an antiques store, just to sprint past the woman in the eyeshade and Keds, to beat her to that tall crowing prize?
Can any collectors dispel such a silly notion?
Asks Rachel, known far and wide as the Dish Junkie, and who can hardly type for the tempest of teapots nudging her elbows.
Addendum: A comment from the very people whose collection and post inspired this---the HATTATTS:
"Oh, we have absolutely loved this post.
We can definitely tell you that our 'collection' came to us a a job lot and we are always at pains to tell anyone who asks that we do NOT collect cockerels, chickens, roosters, chicks, turkeys or any
other fowl!!!

One of our mothers began many years ago with a single bird and, from that point on, her collection multiplied at an alarming rate. At its height she was the recipient of not only ceramic birds but tea towels with chicken motifs, chopping boards, milk jugs, sugar bowls.....indeed, if a cockerel or chicken motif could be applied to anything or made into anything then that is what she acquired. As the collection grew, pieces of furniture had to be given over to their display, shelves had to be erected to house them and kitchen cupboards groaned under the weight of them!!!

When she died, we did not have the heart to simply get rid of them all, so we selected those which could be housed on the Victorian buffet. We have been careful to ensure that they are not added to in number ever since !!!!!

However, strangely......we are now rather fond of them!!!"