Does anyone else find comfort in delving into Childhood Memories or tastes or scents when you're coping with a sad time? This past bit of time, I've been so introspective, I'm barely in the present some of the time. There have been little daydreams of playmates, of hot, shady yards, foot-beaten grass, warped-gray-wood picnic tables where we had tea parties and games of Old Maid and Monopoly, and even odd little games of Jacks, with a careful scrape of the bouncing hand across the splintery old table.
Memories of old friends have come to visit, and the sounds and scents of endless Summer days have warmed the drab season.
A hand thrust into the ice-water depths of the old store cooler, with the scent of wet metal and deep dark scent of the old black rubber gasket rising as the lid was flapped back. The WISSSSP of the bottle in the side-mounted opener with the raised Coca Cola worn clean through the red paint, and that first long, burning swallow, just before the tooth-rip of the Planter's packet, with a heedless PTUH of the tiny torn crisp of cellophane upon the ground.
A funnel-fist around the bottleneck, a gentle cascade of the golden peanuts, the creamy uproar as salt meets carbonation, the crunchy, salty crispness and the sweet, nutty Coke---all a part of a Southern childhood.
A privileged step around the candy counter in Aunt Lou's store, fingers in the door-slot of the Sanctum Sanctorum---the wooden back of the glass-fronted case. A gentle slide to emit Aladdin's treasure of color and scent---licorice and chocolate and lemon and cherry and FLEERS.
Of them all, the scent of Fleer's Double Bubble is easiest to recall---a sweet, sugary, smell which could be no color but PINK, and which you'd know to the end of your days. There's vanilla in there, and I don't know What-All else, but there's just a lovely mystery to bubblegum which trumps any candy in memory.
Back then, they were rosy round mouthfuls in their little Christmas-cracker twists, peeled carefully to preserve the slick little comic paper inside---there was NO biting of that gum. The whole luscious, toothachy hunk went into your mouth, and the first couple of chews were both difficult and the most delicious, salivating moment you could imagine, with the full flavor filling your mouth with that unmistakable taste, dizzying with its gummy, sugary perfection.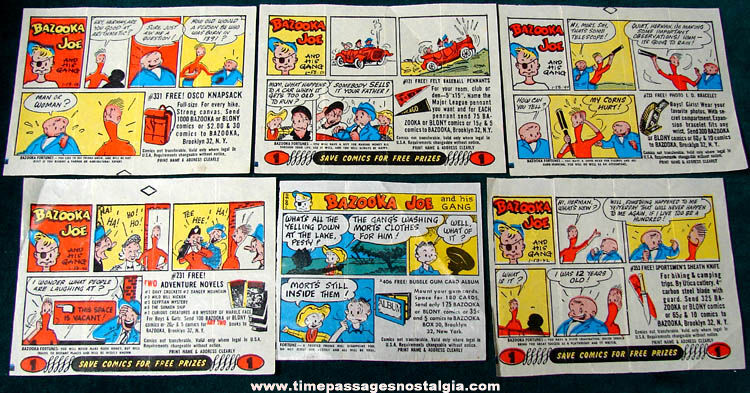 I was never in a hurry to get to the bubble part---I could blow bubbles half the size of my head when I got it chewed down just right, but it just wasn't something to rush. I struggled for a few moments to get that lump into manageable chewing texture, as I read the garish little waxy paper within---Nancy and Sluggo, Lil Abner, Dick Tracy. We saved them all---Fleer's, Tops, Bazooka.
We swapped them and filled cigar boxes with the heady aroma of sweet vanilla tinged gently with the fleeting brown scent of tobacco. I've got two pieces of bubblegum right now---the flat, modern kind which cannot possibly have the chewy charm of remembrance. I haven't got to the moment of actually CHEWING them yet---I've only held them to my face in my two hands, inhaling that timeless scent. I hope there are still comics; it's been a long, long time. I guess Archie and Veronica are too much to hope for.
Any sweet memories you'd care to share?