Joining in Beverly's

PINK SATURDAY

today:
The tea at Sweetpea's school was marvelous and the program wonderful. And, in addition to the pink gloves, I even pulled out the LEATHER SANDALS, then went looking for a suitable hat to befit her expectations (none, actually---she just said "a dress") and of all---ALL the hats Chris has acquired over the years for photo props and GRANDS pictures---there were only FOUR accessible. TWO BLACK VELVET and ONE MINK, with an immense red-sequined number worthy of any street corner in San Francisco. None quite suitable, and I could SEE the big plastic box of the others in the FARRRRR corner of the storeroom, behind everything else we own.
So, I did what I do when we do make-believe anything---I improvised. Chris' summer straw, with a huge pink silk rose from last-Spring's candle-ring and an enormous hatpin which holds up a curtain downstairs. Sweetpea's surprised, delighted face when I walked in, all gloved and hatted, was well worth all the probably-unbelieving looks I must have gotten from all the Moms in the room---Sweetpea's Mammaw and I were the oldest two at the party, and I could just imagine the thoughts running through the heads of all those beautiful young slim-jeans, high-booted women pushing strollers that cost more than my car.
They saw us---Mammaw in her seamed slacks and Teddy-bear sweatshirt and New Balance shoes and cane, and me in a cobbled-together hat--Chris' Summer straw with the tee-ninecy spot where an errant honeysuckle limb broke a straw and left a small vent, with the big old gold hatpin pierced through two flappy petals of a frowzy rose snatched off a centerpiece.
And though they didn't give us that up-and-down dismissive Miss Grey glance toward the Dashwoods, there was probably just a wee bit of disbelief there.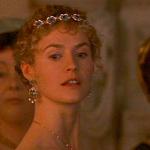 Her Mammaw was any nice lady you see at Saturday flea markets, at flower and lawn shows, musing over cake mix in the Kroger aisle.

I, on the other hand, was probably received as one of those trying-too-hard-with-whatever-tattered-finery-I-had-left---one of the dear old biddies who refresh and re-pin and re-hem from season to season.

Neither the boozy élan of Blanche DuBois nor the genteel hose-darning of a Miss Bates, but

quite a step above

The Queen of the SilverDollar.
The

grown-up guests probably had no idea it was just something we DO at home for dress-up, and not just a dotty old lady who should be wearing purple and might any moment start gobbling up shop-samples.



For some reason, I find that a hilarious, memorable moment that gives me a little glow. I don't know if it's that I'm not quite so stodgy as I thought I was becoming, or I'm approaching the age of, "Oh, GOSH!!! I FORGOT!!! Is THIS the day I'm supposed to CARE what YOU think?"

Sweetpea saw every accessory---the flat-heeled shoes, the short pink gloves, the slightly-ridiculous hat---and beamed. She hand-grabbed me and took me around to all her classmates, introducing me to almost every one. And several of them called me Ganjin before the party was over.

A little a this, a little a that---quite satisfying, all round. And you never have to explain silly if it's done for love of a child.