Linking to

PINK SATURDAY

today.
Since Sweetpea's growing to be such a young lady, I look back at all the little moments of our time together, all the tiny costumes: the Snow White dress worn and faded to a mere wisp of pale satin, the dainty "bride/fairy dress" of fluffy tulle, worn in many a fairy jaunt across the garden,
and that memorable small Tinkerbell outfit which once graced a small green fly perched implausibly on the door.
Our costumes veered into the what-there-was-at-hand, with everything from towels to curtains to Goodwill-bought lacy nightgowns and camisoles and jerseys, with whatever accoutrements could be found in the house, storeroom, garage and yard.
We've been knights (AND dragons), as well as farmers, fishergirls, soldiers and sea captains of small boats captioned "Tomatoes" and "Listerine 1QT.8FL.OZ." and swordfighters for and against every cause to hand. Our travels and personae have taken us to lands unimaginable, and some so imaginary that we almost didn't find our way home. And always,
always, we "boom compenions" were two for one and one for two.
Her taste in toys has been varied, with no thought to gender nor age, and her shoehorn swords and Tupperware armor have been worn with sequins, lace, leather, and Glad Bags, cut to suit. And her very-young acquisition of her own "maple steve," (noble steed) has varied over the years in size, colour, talents, and age, as well.
But the one unvarying loyalty is to Prunella, the sleek chestnut who lives in the lobby of the BIG grocery store. Many, many a quarter has gone to feed her speed, and we've had quite the relationship with the beautiful little mare. And someday, someday, I'll tell her the truth behind the name, for it's a funny one, a spur-of-the-moment little joke one day when her daddy and I were shopping, and which sent the two of us fleeing from the store, giggling to beat the band.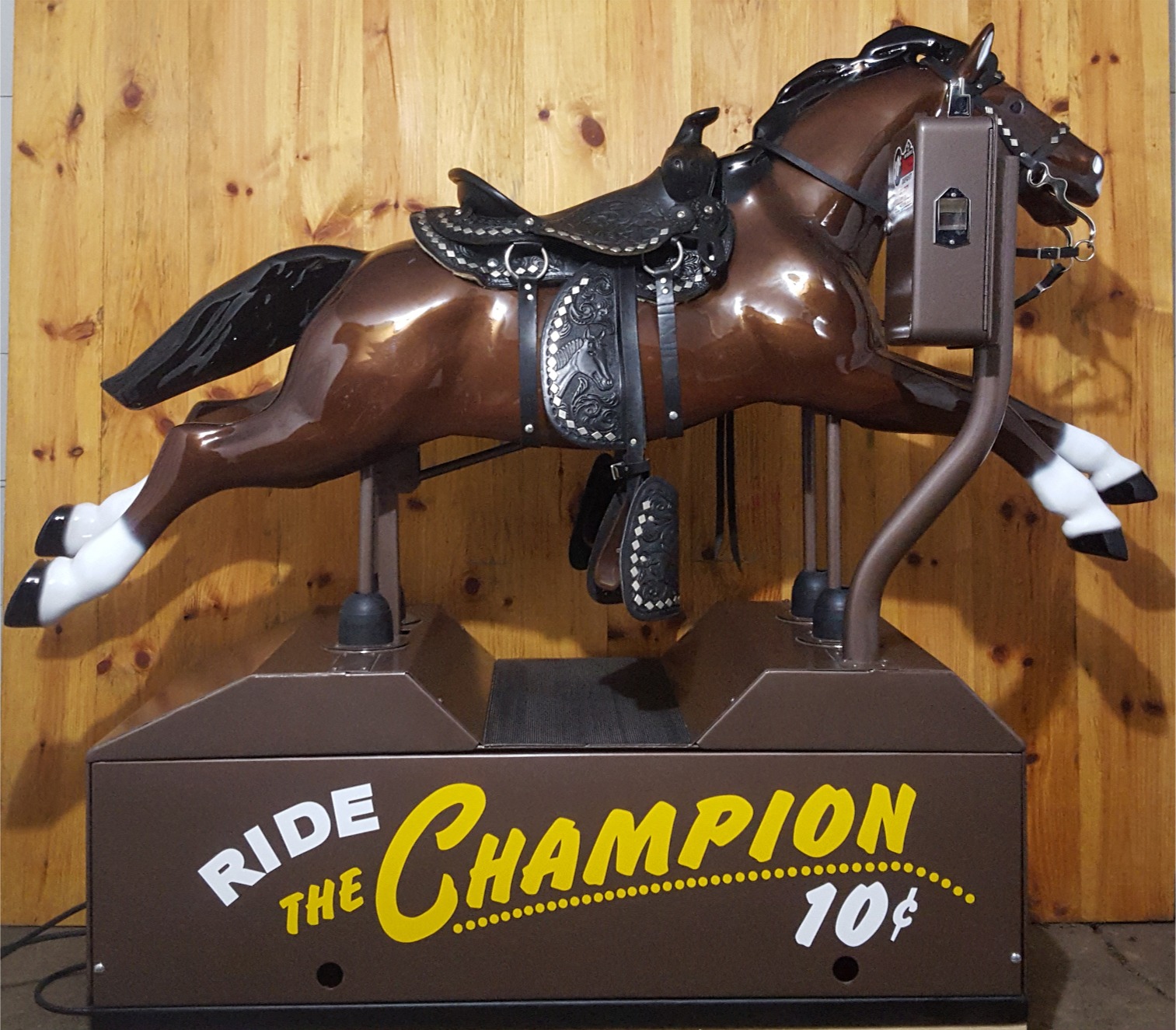 We'd finished our shopping and headed for the car, to come upon a spilled bag in the parking lot, apparently lately dropped by a previous customer, and left in its tattered, broken state, with several items beyond redemption. There was a smashed jar of something with juice, I remember---maybe pickles, and a soaked-looking box of perhaps cake mix, with a little scatter around of dried fruit which had rolled out of the bag. I could practically SEE the cogs of his brain, as he gathered up a handful of the withery round prunes in his gloved hands, walking back into the lobby and dropping them gently behind the horse, as we ran out of there laughing like loons.