Something's moving fast this year, folks---the Fall is in the air, the FEELING is in the wind, and even lavish displays in stores ranging from Halloween candy to Turkey lollipops to fully decorated TREES are not as off-putting as usual for September.

So, after yesterday's great exclamations over barrel after barrel of candy-from-my-childhood, I'm really thinking about those sweet times.
That kind of candy wasn't given out "in its day," because very few could afford to give out penny candy to Trick-or-Treaters.

We got homemade stuff, back when you COULD---tight-packed little popcorn balls, twisted into odd dreary party-cracker shapes of waxed paper, with the variously-timed syrup either sticky brown goo which WOULD let go enough to unwrap, or which required assiduous prying with fingers and teeth to get the good parts off the paper without chewing as much CutRite as candy.
And there were candy apples, with saved-up popsicles sticks, some with the ends still bearing tell-tale stains of grape and lime in the wood visible in the porch-light.

One notable Mama would proffer the tray, standing there in her black cardigan with the little pumpkin brooch, mentioning to each child studying the wares that she "washed 'em real good."

Everybody's apples had been dipped into various recipes of sugar-and-water syrup, from soft ball to hard-crack stage,

with a variety of flavorings, and we could remember from year to year who had the plain, who the molasses-laced, chewy, pull-a-tooth kind, and whose tray of apples would have the burnished lacquer of the true Candy-Apple-Red from dissolved RedHots, apt to crack an incisor and numb your mouth like Novocain all at once.

A handy combination, if you think about it.
Mrs. Tallent made shining colorful suckers, right there in a black skillet in her kitchen, and for several years, I assumed that her name truly meant gifted, for who but fairies and workers of magic could take two cups of Godchaux, some water and a drop of food
colorin' and make such marvels.

And in her house, she had a pretty round candy-dish which looked more like our church's Lord's Supper set than ordinary folks' ware.
The steeple on that lid was like a medieval archbishop's hat, and, though probably not intended by the glass maker, too heavy to lift quietly enough to sneak a piece while your Mama and Mrs. T. were talking at the kitchen table.

And in that dish---oh, in that dish, there were all the Queen's jewels, as well---little irregular lumps of sapphires and rubies and emeralds, all shining through the glass, and since that one time I was privy to watching the process, I knew that the syrup started hardening in the skillet, got thick enough to pour out, and was streamed in narrow rivers all round and round on a big slab of marble she kept slid between the refrigerator and the Bendix.

And then it was cut with SCISSORS, just like snipping off a thread.

The marvel of that is a revelation with me to this day.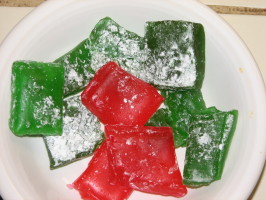 Then there was the rippled ribbon candy, folded and fanned back on itself, that was given to the members of her Sunday School Class every year, and coveted wildly by everybody else.

She made lemon and cherry and that dark blue lickrish avidly gobbled by a few friends, though I never got the taste for that one.

And the CLOVE---we all had Oil of Clove in the medicine cabinet, but to use it for a flavoring was just beyond me.

Two licks and it ruined your mouth for any other candy for quite a while, and sticking one sidewise into your cheek---you couldn't talk, taste or whistle til morning.
Mrs. T. always had the prettiest table on her porch---great swaths of dried "color corn" hanging over, and a big pumpkin, bristling with dozens of jewel-colored suckers, stuck in all around and glistening in the candlelight.
And moiré non, of fried pies, tea-cakes and nail-polish taffy.