Once upon a time, some forty-something years ago, we sat in our living rooms, watching Mayberry on our black-and-white TVs.

The episode featured a visit from Thelma Lou's rather awkward, rather plain cousin Mary Grace, and since it was already arranged that Thelma Lou and Barney and Andy and Miss Helen were double-dating to the big Spring Dance, Thelma Lou asked Barney to find a date for Mary Grace.
Barney sumpn sumpn and Andy Hmmm Hmmm and Thelma Lou SUMPN SUMPN!! And Barney shoulders-hunched hmmmhummm, so he and Andy ask Gomer to take her, using the Kiss Of Death regarding Blind Dates:
"She's Nice.

She's REAL NICE."
Date arranged, night of dance arrives, three ladies wait in Thelma Lou's living room.

Three guys arrive, come in, and as soon as Gomer and Mary Grace are introduced, he dashes back out the door.
Mumblemumble, sorrysorry, A&MH & B&TL leave for dance, leaving Mary Grace at home.
Knock on door, she answers, Gomer says, "Sorry it took me so long.

I noticed the other girls had flowers and you didn't.

I had to go two different places to find something with a little bit a pink in it."
She asks if THAT was the reason he ran off, and he says that "it wouldn't be right for you to go the dance unadorned."
Noting that they now have no way to get to the dance three miles away, they both say they'd rather just stay home with each other.
More hmmmhmmm and GrrrrGrrr at the door of the dance, Thelma Lou fumefume won't get out of the car, they all go home.

As they all reach the front door, they can hear

lively MUSIC inside.
R. I. P Mary Grace Canfield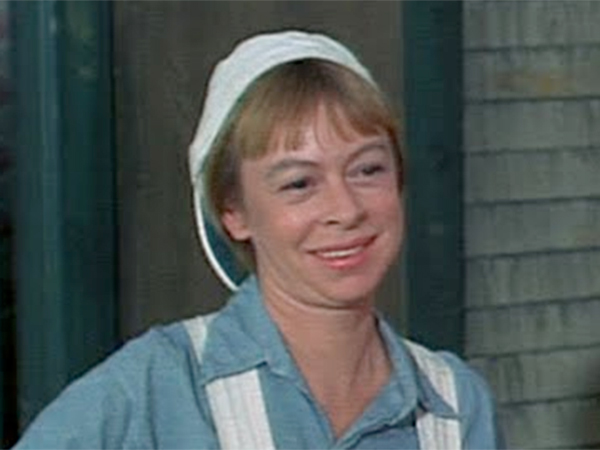 You make me smile, every time.