My friend Chronica Domus has posed a question about Sawmill Gravy, mentioned in the FEEDING THE HANDS post the other day. "'
Wonderful, just wonderful, and now you've made me yearn to sit at one of those groaning tables full of great food and great people, listening in on the chatting. But, a question for you first. What in heavens is "sawmill gravy"? Do please relieve this Brit's mind as it hasn't a clue, thank you."
I have referred the answering to my dear friend Marthy Tidwell, whose knowledge of Southern Kitchen lore is boundless.
My friend Rachel asked me to give you a little run-down on Sawmill Gravy, and I'll just say right off that I've found that it seems to be whatever the local folks say it is, in whatever town, area, settlin', hoot or holler you live in. It's not quite a written-down receipt---not anywhere, I don't think, because it's not something you PLAN on, most times, because it's not any cook's best dish. It's a kinda in-a-hurry thing, you know, like stirrin' up a cuppa-cuppa cobbler out of the last peaches in the freezer when you find out your husband's asked two lodge buddies home for supper after the Stated Meetin'.
Folks vary, too, on what's in it. Some swear by crumbled-up sausage, all stirred and fried up before the flour goes in to brown, because their own Grandmas did it that way. What they may misremember is that the amount a sausage that would feed TWO in patties will stir around in the pan to season and satisfy a whole big skillet of gravy, when it's all browned up and thickened. And those Mamas with seven children to feed before the bus arrives at dark-thirty can stir and fry and whip that right up while those two dozen biscuits brown up and come out of the oven, and still have time to find two books, lunch money and a shoe in the meantime.
Of course, SAWMILL in the name gives it a rough touch, to begin with, because those loggers and sawyers had about one of the hardest, dirtiest jobs in the whole universe, and those big tough-hided men needed a lot of nourishin'---the cooks in those camps had to sling some hash, so to say, startin' WAY before daylight. I've heard some say that some of those cooks made the gravy with cornmeal, but I've not ever tasted any of that. It was supposed to make a crumbly gravy, even without any sausage, and got a lot of complaints that the mingy owners musta made the cooks use sawdust to stretch the gravy along for so many hungry men. I've never seen anybody make it like that, but I guess such things happen.
Now, in MY family, we just call the one with sausage SAUSAGE GRAVY, and my Mama's version of SAWMILL Gravy was just plain old gravy, the kind that's just a good brown roo of lard and flour, with plain
water and salt and pepper, and maybe the last cup in the coffee-pot before secont-boilin' to knock up the flavor a little. That one is just a thick, rich quick stir-up maybe for a Winter breakfast, or to stretch the supper for extra. It's kind of a name that you give to the gravy you make when it's never seen a smitch of meat, as versus the grease that you fried pork chops or chicken in. You can make the same thing with a little broth from boilin' up squirrels or rabbit, saved in the freezer for emergencies, but those are all
always called by their own names---Squirrel Gravy or Rabbit Gravy.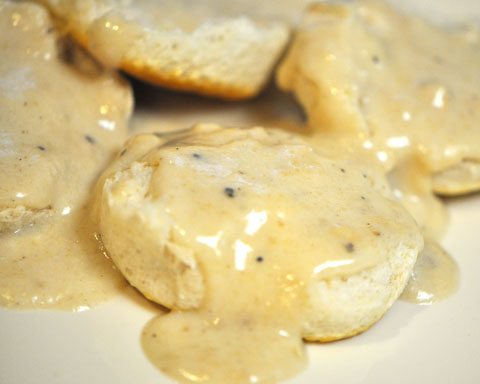 So Sawmill gravy, to us, is a Po' Folks gravy, made to satisfy a meat-cravin' when there ain't none, sometimes made almost thick enough to cut with a fork, furtherin' the pretense, you see. Over grits or rice or several biscuits, it's made many a good hearty breakfast for hard-workin' folks going out to a long day in the field or mill, or repeated in a good hot supper with maybe just a tad of good jelly you put up last Summer---well, a full stomach can sleep WAY better'n a growlin' one, no matter the plain fare.
And biscuits and gravy---those common old staples of lard and flour cooked two entirely different ways, but fillin' bellies and keeping backbone from belt buckle for generations---those have a place in history, just like flags and rights and battles and time.
I hope I've explained this little bit of Southern' cookin' for you---maybe some of Rachel's friends can chime in and give you their version of what Sawmill Gravy is.