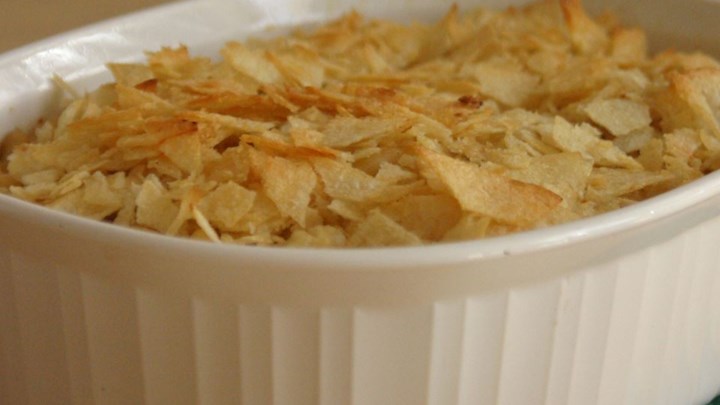 MARGARET'S TUNA-FISH CASSEROLE AT MRS. WOOD'S TEACHERAGE
Margaret has been Mrs. Wood's cook since her young-married days to Mr. Wood, and has remained steadfast in the big white kitchen over the years, turning out vast collations for parties, dainty teas for the Missionary Society and Bridge Club, and over the past twenty years, has cooked a steady two-meals-a-day for the six boarders, all long-time residents of the house. All the women are teachers, as was Mrs. Wood, and they "take their breakfast" in the breakfast room with varying morning appetites, from Miss Jones' Two Boiled Eggs to little Miss Hester's bowl of cornflakes.
Dinner is another matter, for most of the ladies gather in the big "front room" late in the afternoon, watching the news or reading the two papers or simply chatting about the affairs of the day, as the scents of Margaret's excellent dinners waft from the kitchen. Except for perhaps grading papers after supper in their rooms, their duties are done for the day, and they simply relax and await the bell.
One of the stand-by Fall-and-Winter suppers is Margaret's Tuna Fish Casserole, served almost always with English Pea Salad and Brown 'n' Serve rolls.
MARGARET'S TUNA-FISH CASSEROLE AT MRS. WOOD'S TEACHERAGE
Put on pasta water to boil in large pot with palmful of salt. Boil a pound box of linguine or fettucine pasta to jusssst done. (al dente in modern parlance).
WHILE IT'S COOKING, MAKE WHITE SAUCE:
Drain liquid from three cans of plain water-pack Star-Kist (or White Albacore) into quart measuring cup, pressing tuna a bit in the can with the lid. Fill cup with milk to measure three cups.
3 T. Butter in medium skillet
3 T. flour stirred in and cooked for a few minutes, stirring constantly with a flat paddle. Do not let it begin to show any golden brown.
Stir milk gently into bubbly butter-flour with whisk , then keep whisking over heat until thickened and smooth.
Whisk in: 2 good clops of Duke's mayo
Few grinds of the peppermill.
A cup or so of grated white cheese if you like it with tuna.
Flake the tuna into good-sized lumps and stir in gently, along with ½ a bag of frozen petite peas.
Drain pasta and stir in gently. Pour into buttered 9x13 and top with two cups of crushed potato chips. Bake at 350 for 20 minutes, til bubbly and crisp on top.
Serve with Pea Salad.
Serves seven ladies generously for lunch or supper.
That enticing scent of crisping chips and rich fish sauce coming from the kitchen, wafting out into the parlor of Mrs. Wood's house as the seven ladies relax until the dinner bell---I've always wondered how it would be to be at my leisure at suppertime, just awaiting the call to a meal prepared by other hands (which would also clear and do the dishes).
MARGARET'S ENGLISH PEA SALAD
Open three cans of LeSueur peas in the silver can. Use lids to drain peas, leaving them in the cans. Pour cheater-pickle juice over the peas and set in refrigerator overnight or while you cut up the vegetables for dressing
Stir up in bottom of a medium bowl:
One large tomato, cut small
Three boiled eggs, cut small,
½ cup or so Cheater pickles,* finely chopped
Thin-sliced tops of two green onions
Three good clops of Duke's mayo
Drain peas in a colander, and pat them a little bit on top with Scotch towels; pat around under the colander so they won't drip into bowl.
Put peas on top of dressing and toss gently. Keep in Tupperware to chill. Toss a bit once more before putting into pretty serving bowl.
(If you're serving something less rich than the Tuna Noodle Casserole, toss in several slices of crumbled, crisp bacon at the last minute).
This filling Wintertime supper calls for a little bowl of pineapple sherbet or maybe just passing the fruit bowl for dessert.
*MARGARET'S DIRECTIONS FOR CHEATER PICKLES:
Buy you a gallon of store dills, whole ones or sliced. Cut your pickles if they're whole and drain out all the juice. Start putting them back in the jug, with a big ladle of white sugar, a handful of cloves. Keep making layers like that til the jar is full. Turn it upside down once a day, then back up, to keep the sugar wet and absorbing. Three days and it's ready t'eat.
Moire non of Paxton Cookin'