There's picnic-time in the air, folks, with the world greening and the warm trying to settle into the days.

My first ideals of picnics were gleaned from cartoons---Heckle and Jeckle with the basket spilling bread and grapes and wine onto a red-checked cloth on the ground, and of course, the KING of the Pic-a-Nick Basket---Yogi Bear.
Garfield does love him a picnic, as well, but I can't think how they arrived there with all that fruit and melon and pie, because I know for a fact that there's a huge steaming pan of lasagna beneath that warm red cover:
There's the Teddy Bear Picnic, with all the furry friends set out into the sunshine for a little repast:
An eager group of bunnies, with the requisite sandwiches and pie and cold chicken.
Even these fey little vacant creatures, with their toy Bento food just set down by a phalanx of thrall-lackeys from that castle beyond, enjoy an al fresco tea as much as anyone.

They're either annoyed at the Paparazzi or loosing their Snoopy brows against the uninvited. (Someone should, however, remind their governess to tell them that removing their gloves before eating is de rigueur).
The prototype of all my basket ideals---everything neat and ready to hand---all that's missing is a cold roast fowl.

My collection of Red Man baskets holds a lot of picnic dreams.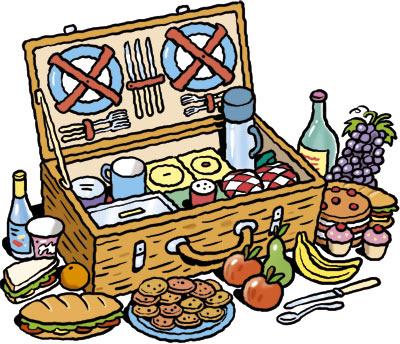 And the sweet mystery of story-books, where families were always together, and it all comes right in the end.

But how they got all those cub-chillun into those cunning little sailor-suits and ruffly panties and got out the door with all the food and preparations is beyond me. Why, just getting all of them to sit still at once without spilling the honey or putting

a foot in the pie---that's magic, right there.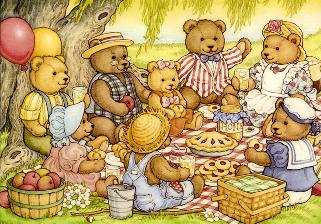 Here's one more true-to-life:
I was the primary picnic-maker; I would have a basket ready to go as soon as we got home from church and could get the Tupperwares out of the fridge and into the Coleman, and those were some lovely afternoons.

We'd find a spot, usually on one of the concrete tables in the park at the lake, spread the big old vinyl curtain, and I'd lay out the food just so, whilst Mother got the ice into the glasses and the napkins laid down with a rock.

And immediately after we'd eaten, Daddy would stand up, stretch his shoulders, and wander around the area to find the best leanin'-tree.

He'd check for ants and twigs, then sit down, lean back, and be sound asleep in thirty seconds---he said it was from all those years of hunting in the woods around their farm, years when squirrels-in-the-pot meant there was meat for supper, so he learned to stay still for hours, and wake in an instant.
And then there's one which just seems so RIGHT to me---an impromptu little out-on-the-lawn for cocoa and cake, when the season's winding down and the air bright with Autumn.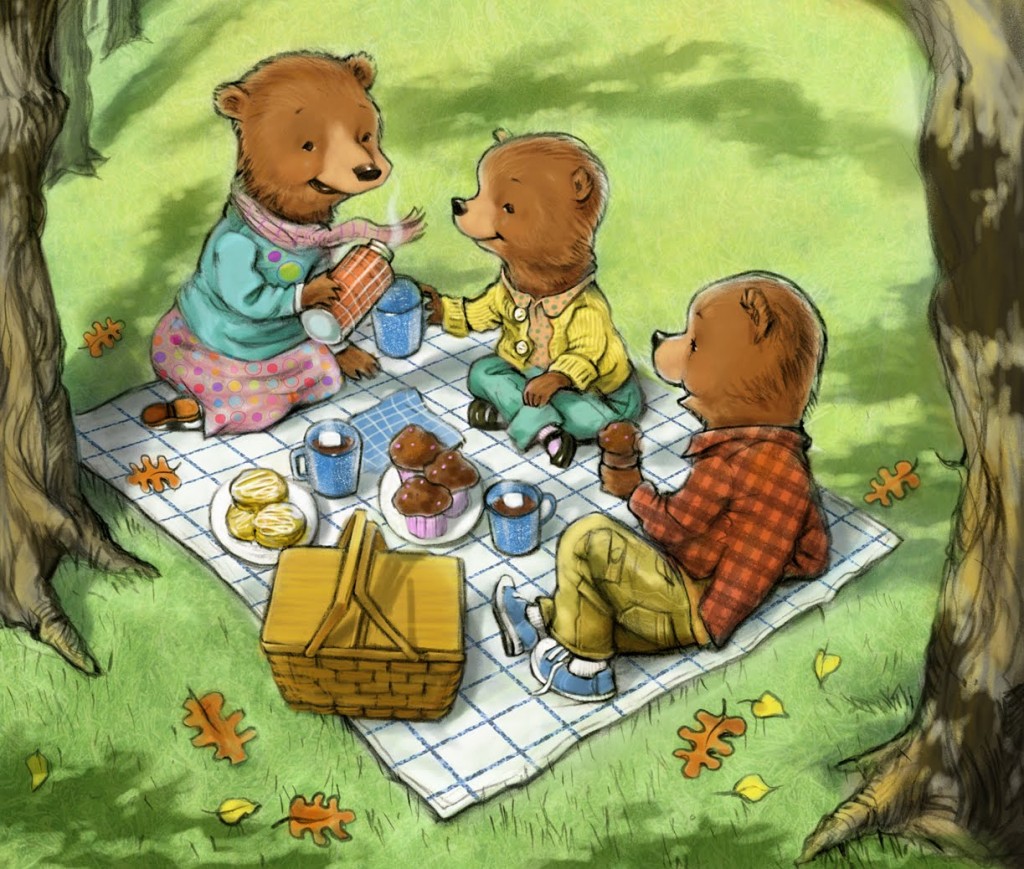 It's time.

Let's plan a picnic!